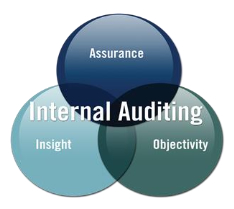 Internal auditing represents one of our cores of competencies at Kimlan Management. When conducting an internal audit, we;
Offer a comprehensive review of the processes and procedures
Test their compliance with internal and external requirements.
Identify all the grey areas, with a view of preventing fraud and pilferage,
Share best practices and recommendations in order to promote waste reduction measures,
Offer risk mitigation tips,
Document and install new processes and create checks within the system.
Recommend a specific cause of action designed to optimize the situation.
Engage system vendors where necessary in order to give the desired results and boost controls.
Train users on best practices of operation.
Provide a written report documenting the plan and measures to be taken.
Kimlan Auditing team will help you improve the effectiveness of your internal controls by performing continuous independent appraisal and assessment of the control systems. These assessments, we will provide you with recommendations for cost-beneficial improvements and then help you implement solutions that best meet your business needs. By doing this, we can help you recover and streamline costs while improving your organization's bottom
line.
Whether you need assistance starting up an internal audit department, augmenting (co-sourcing) an existing department, or running a department on a fully outsourced basis, we can help you. Our risk-based planning methodology, tools and experienced team offer an effective yet efficient customized internal audit program designed to meet your needs.
Internal Audit Services may include:
Review the reliability and integrity of financial and operating information and the means used to identify measure, classify, and report such information.
Standard Operating Procedures (SOP's) documentation and testing
Get your business on the path to growth
Book your strategy call to find out how we can help your business grow